The Mid-Atlantic has a lot of factors because of the proximity to the Atlantic Ocean, Mountains, and even the Great Lakes. I want to outline the impacts of these AND the Pacific which will all impact this winter, especially early in the year!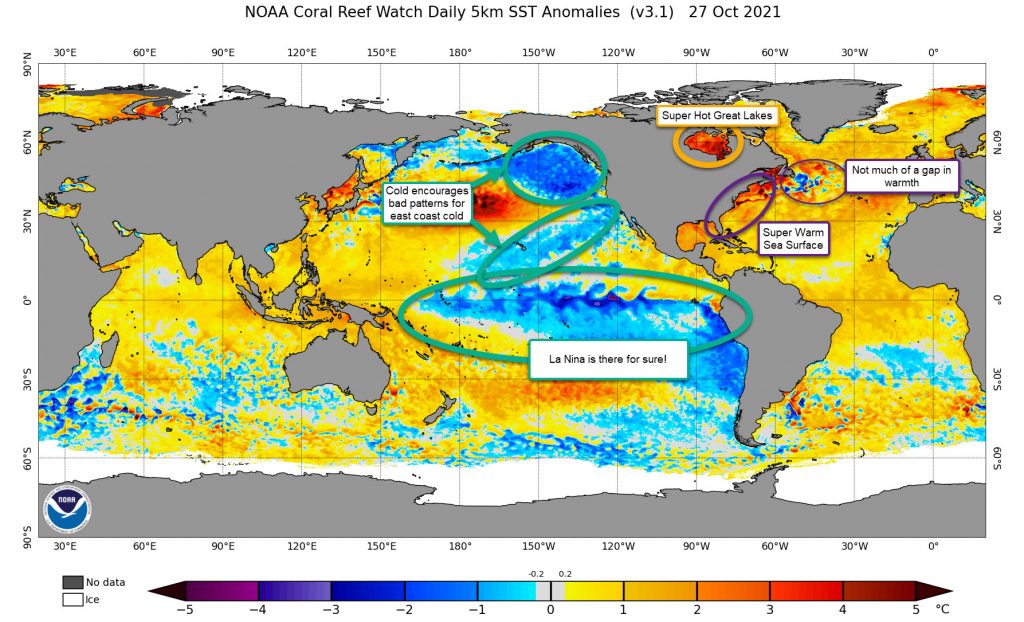 Atlantic Temps are WAY WARM!
The Atlantic Ocean is currently much warmer than normal. I think this will impact us in several ways:
Storm systems will have a lot more moisture to work with! The heat should evaporate more moisture and juice up any storm system. This is part of why I think each time the forecast models say it will be a dry period, they back off pretty quickly
The Western Atlantic Ridge (which at times is known as the Bermuda High) will be strengthened by the warmer air. This could slow the infiltration of colder air and stall fronts away from the coast and make them just inland. This could have a significant effect on the rain/snow line!
Warmer temps from the ocean will also make marginal (close to frozen events) more likely to be a mix or even rain. That heat will make it inland! This becomes less of a factor for the western zones, but does impact the upper levels which could make sleet and freezing rain a problem. This is not new, but could be a more common set up
The Greenland Temperature Gap
There is often a cold pool off the Northeastern United States that is linked, many times, to a better negative NAO (See previous posts for information on the NAO)
Great Lakes
You would not think the Great Lakes would have too much impact on our weather, but it really does! The Great Lakes can provide additional moisture to some storm systems, and, if it is warm, it can help moderate temps that are being impacted by winds that go across them. I am not saying this is a huge factor, but it does have an impact.
The Pacific Looks Poor
Probably one of the worst looks I have seen in a long while. The colder weather will encourage cold storms and the Jet Stream to be in a poor setup for us. I will discuss the Pacific Decadal Oscillation, the Pacific North American weather patterns, and the Eastern Pacific Oscillation in a post soon. All I can say is the pattern will favor milder terms for us and drier than normal conditions. I just do not like it.
Of course, we also have La Nina which will not bode well for big storms.
Summary
Most of the ocean looks terrible for us for winter. It is also the biggest signal that the winter may be warmer than normal and have less snow.